Ethel Aputerebuno Akolaa, BSPH, MPH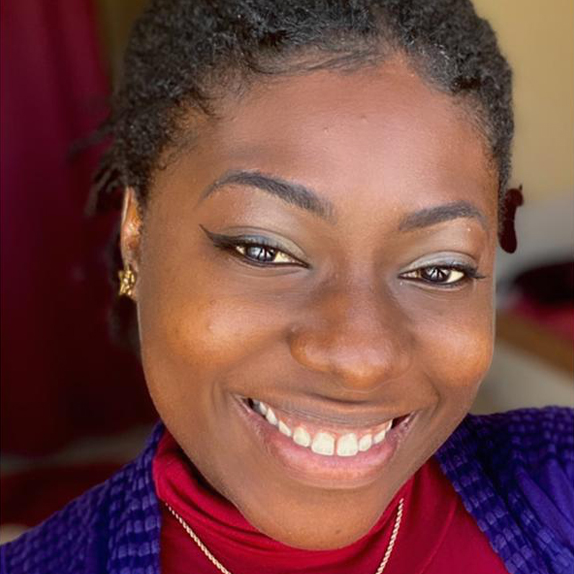 "Knowledge is not worth having if it is not used to make a difference in society and improve the health and livelihood of all people. MEZCOPH is a great place for you to build that knowledge and make a difference wherever you find yourself."
Ajman Microcampus Dual MPH Degree program
Hometown: Upper East Region of Ghana
Current Major: Dual MPH Public Health Practice
Prior Degree(s): Bachelor's in Public Health - Disease Control, University of Health and Allied Sciences, Ho, Ghana 
Why choose Public Health/What's awesome about Public Health? I strongly believe that Public Health is the key to changing a developing country to a developed country having the power to increase the economic growth of a society. I chose Public Health so that I can improve population health. 
Why choose the University of Arizona/MEZCOPH: I chose the MEZCOPH because it was the most suitable place for me to acquire the needed knowledge to build requisite skills and competencies as well as a platform to expand my network and learn from colleagues from different cultures. 
Public Health Interests: Maternal and Child Health, non-communicable diseases, and education of the girl child. 
What are your career goals: To obtain my PhD in Epidemiology/Biostatistics and work with the CDC, WHO or USAID to make an impact in health globally, especially in Ghana. 
Fun fact about you or interests/hobbies: I love reading and cooking! I also dabble in abstract painting and recently picked up an interest in food photography (@rosa_foodgraphy) where I post pictures of food (mostly made by me!). Please feel free to follow and like my pictures! 
One piece of advice for current and future students: Whatever you want to achieve may not be easy, but just bear down, go for it, and it will all be worth it in the end!